Order Management for eBay, Amazon, Magento and others
Manage orders, create and print shipping labels from one single interface.
Watch video
No credit card required. Cancel anytime.
Book a Demo
Download your orders from anywhere
With our new "plug-and-play" support for over 10 leading shopping carts, Just Ship IT allows you to download all your orders quickly with seemless integration into one interface.
Shopping Carts
eBay

Amazon

ManoMano

PrestaShop

WooCommerce

Shopify

Magento

BigCommerce

EKM

OpenCart

VirtueMart

OsCommerce

3DCart

Zen Cart

UberCart

X-Cart

Etsy

Wallmart

Newegg
Integrations – Couriers
Seamlessly connect and print courier labels for Royal Mail, Parcel Force, DPD, DHL and Hermes with all of your online selling channels.
Enabling you to manage your entire picking and shipping fulfillment from one order management application JustShipIT.
Parcel Force

DPD

DHL

Hermes

FedEx

UkMail

Norsk

GLS

TNT

OCS

USPS
* Additional Charges apply for Royal Mail Direct Integration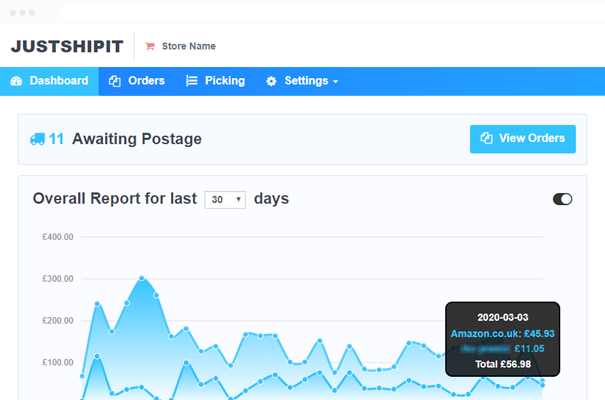 KEY FEATURES
Practical for day to day use
Designed to save time when managing your orders

Our software allows you to get through your daily routine and still have time for other key aspects of your business.

Picking and packing list

Print picking and packing lists to help your despatching team with signing off what has been sent each day.

Print invoices and labels

Just Ship It generates your invoices and labels automatically, saving you lots of time over the manual methods.

Bulk despatching of orders

To save time, JustShipIt has built-in despatching to update the order status on the platform once an item has been shipped.
Send Invoices in Seconds
Just Ship IT is an order management tool for both eBay and Amazon sellers to download all their orders and customer details to one single application allowing the printing of customisable invoices and labels with speed.
Find Your Orders with Ease
Product Image Invoicing
Review All Orders in One Single Aplication
Print with Thermal Printers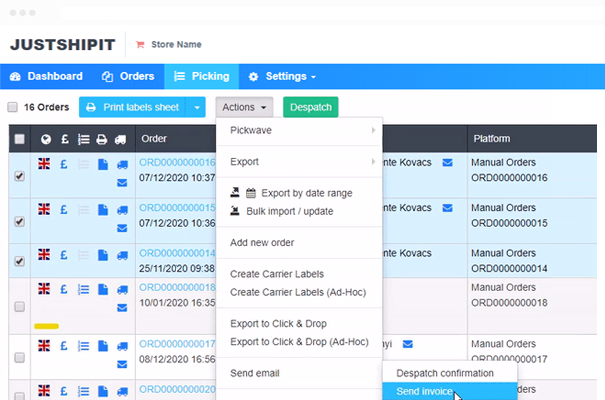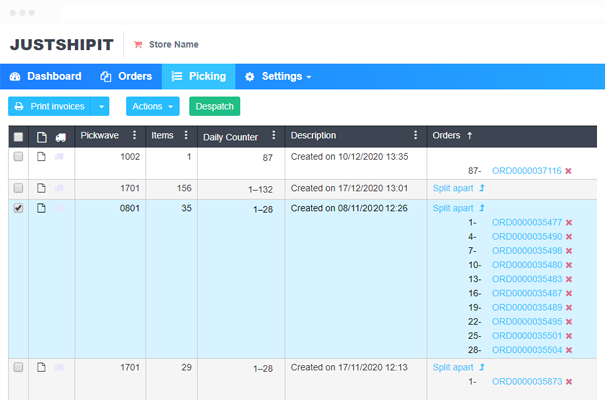 Process Orders in Waves
This feature is valuable for sellers that ship out orders in waves. Select a batch of orders to be processed as one and assign a pickwave to a specific packer within your warehouse, this allows you to have more control over the packing process
Order counter per day
Assign wave to employees
We offer The Full Range Of Excellence Services
PRICING
Subscription plans tailored to your needs
Our multiple pricing options are made to suit businesses of all sizes. The license tiers are based on the number of orders you have per month. To see which plan suits your needs, please check out the slider below.
I usually have 100 orders per month.
&pound
0
Save 15% by paying yearly
7 Day Free Trial
Up to

0

orders / month
Easy to Use Interface
Easy Order and Invoice Printing
Multiple Marketplaces
Dedicated Support
* Prices shown exclude VAT @ 20%
* Cancel or change subscription at any time.
Check out some client reviews and their experience
Award winning software - saves loads of time! Simply brilliant exactly what it says on the tin! A real time-saver.

CA Southern
Fantastic programme... I've been wasting time for years before this came along.

TechValley
The software allows me to cut my processing time for my orders by 30-40% allowing me to concentrate of my business.

Harry Karasmatic
Always on hand by phone or email to deal with your questions or concerns. Just Ship It have implemented a lot of new features we have requested over time.

Daniel Molyneux
Start saving time when processing all of your orders!
You will be ready to process your orders in less than 2 minutes
Start Free Trial
No credit card details required
Frequently Asked Questions
You can seamlessly link all of your favorite sales channels to JustShipIT with our step-by-step integration process. Once linked, all of your orders will be downloaded into our system where you will be able to manage them in bulk.
JustShipIT has integrations with the most popular courier companies in the UK such as: Royal Mail, DHL Parcel, Hermes, DPD, ParcelForce, Click&Drop and many more
We have quick integration guides that can help you set up various courier services within minutes – and if you encounter any difficulties, our friendly support staff can help you set everything up in a jiffy!
Once on the Orders grid, you will be able to select the orders that you would like to export into a CSV file. It will take you only a couple of seconds to get the file saved on to your desktop thanks to the user friendliness of JustShipIT.
Once on the Orders grid, it's quite easy to filter your orders – all of the filtering options are available on the top right hand side of the screen.
JustShipIT has a built-in Invoice template builder that allows you to quickly create custom invoices that help with your store's branding.
To print your orders and invoices, you will have to go to the Orders grid and on the top side you will find a drop-down that will allow you to select the options you want to print.
You can Sign up for a Trial here (note: no credit card details required), and if you are satisfied with the software there is an in-app option to set up a payment plan or you can contact our support for additional assistance.