With eCommerce sales booming during the lockdown – it grew by 30% in 2020 – we saw an increase in customer expectations and an increase in returns volume.
Having a great returns strategy in place can put nervous customers at ease since you are making clear what your returns policy is.  This added layer of transparency can help manage customer expectations and can even build customer loyalty because a customer will always know what to expect.
With the right returns policy in place, you can embrace returns as a strategic opportunity to lower customer acquisition costs, retain sales, and increase customer lifetime value.
Why is returns management so important?
Good returns management is essential for any business, especially for eCommerce. Since there is no physical contact between the buyer and seller, a good returns policy can help build trust and drive sales. Here's how a good returns policy is beneficial for both the seller and the buyer:
Returns management for sellers:
You might think that returns can hurt a business's profit margins and conversion rates. However, if a business has a good returns policy and offers a good customer experience, it can have the opposite effect by driving growth. With the right policy in place, retailers can save over 20% on reverse shipping and processing.
Returns management for buyers
Some studies show that over 68% of shoppers check the store's returns policy before making a purchase. Whereas 87% of consumers are unlikely to shop with a retailer again after a painful returns experience. These studies have also shown that 82% of shoppers who return items are repeat shoppers, meaning that they usually make purchases from the same business over and over again.
Making your return process easier can put shoppers at ease and add to your bottom line.
The easiest way to do this is with a transparent returns policy. One of the best examples of this is About You's return policy. The company was one of the early adopters of eCommerce returns technology and it has been a massive part of their success selling online. By offering a pre-printed returns label and re-usable packaging with each order, they have made returning products easy for their customers, thus increasing overall customer lifetime value and satisfaction.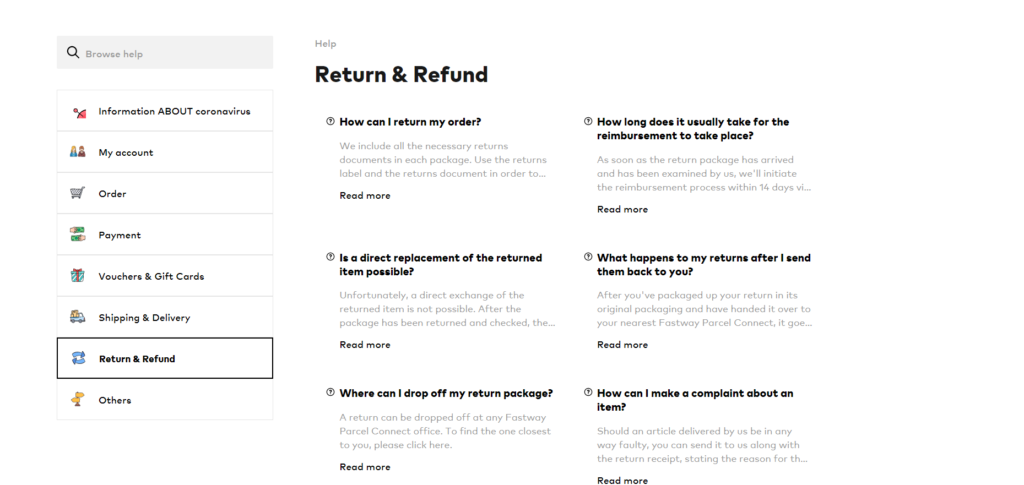 Returns process and environmental sustainability
Returns not only affect the customer experience and the business's profit margin, but they also affect the environment. eCommerce stores can offset the impact by having a sustainable returns process.
One way to accomplish this is by using lighter, more sustainable packaging. The less packaging you use, the less material goes into a landfill and the less weight there is to impact shipping costs. Another great way to make your returns process more eco-friendly is by optimizing reverse logistics and implementing returns aggregation. Smart logistics companies can help eCommerce businesses to achieve this by holding the return orders back for a set period of time before shipping them back together. You can also share the sustainability of your return policy to entice customers and make them more confident in your returns process.
Here are a couple of return management tips that can help your business cut costs, reduce refunds and increase the lifetime value of your customers
Provide custom recommendation when a customer is making a return
You can keep more sales by providing customized recommendations. This is extremely beneficial for stores that sell clothing or accessories.
For example, if you sell shoes, many shoppers will return shoes because there are the wrong size. By offering a customized recommendation, you can retain more revenue by suggesting a different size to help the customer find the right fit instead of simply offering a refund.
Reduce the need for shoppers to call customer service
Another great way to cut costs and improve customer experience is to eliminate unnecessary calls to customer support agents regarding the returns. By automating the returns process or sending a pre-printed returns label, you can cut down the number of customers calling regarding returns.
Offer multiple return methods
Most online shoppers want transparency and options when it comes to making returns. If you provide multiple returns options to your customers – may it be an in-person drop-off, automated shipping labels – it goes a long way.
The easiest way to leave a bad impression is to make it hard to return an item. For digital brands with no brick-and-mortar stores or multi-channel brands with multiple online storefronts, an in-person drop-off point can be a game-changer.
Reduce shipping costs with aggregation and reusable packaging
Like we mentioned before, sustainable packaging isn't just good for the environment, it can also help lower shipping costs. Recycled or eco-friendly packaging can reduce the number of materials needed to ship, ultimately reducing the shipping charges.
Final thoughts
The key to managing costs and customer expectations for your returns process is transparency. Whatever return policy you might have, make sure it's written down clearly and that it's easy to find on your website. Remember, a good return policy not only helps your customer return their purchases, but it also helps to establish customer trust and brand loyalty.