Fulfillment By Amazon (FBA) is a service offered by Amazon and it enables eCommerce retailers to store their products in Amazon warehouses — regardless of whether they actually sell on Amazon — and lets Amazon handle the packing and shipping of those products.
In addition to offering fast and reliable fulfillment, FBA also provides customer service for retailers, as well as certain marketing advantages, like being eligible for Super Saver Shipping and Amazon Prime. Because of these benefits, FBA has been essential in helping small businesses grow their sales. In fact, according to some studies, FBA can give online retailers a 30-50% increase in sales.
While it may be tempting to jump in and follow the FBA trend (thanks to all of these new online courses and ads), it's important to note that FBA involves various costs — some obvious fees and other not-so-obvious ones — sellers must carefully weigh in the fees before taking the plunge.
Amazon FBA fees depend on the size and weight of the products
The size and weight of the products you sell, as well as the channels you use to sell them on, will determine your Amazon FBA fees. There are two main types of fees that Amazon charges sellers:
Fulfillment fees: These fees include all of the packing and shipping costs, as well as Amazon's customer service.
Monthly inventory storage fees: These fees cover the cost of storing your products in Amazon's warehouses, that are aslo known as fulfillment centers.
As noted, the size and shipping weight of your product determines the fees, and Amazon breaks these into two categories: standard size and oversize.
The dimension of standard-size parcels shouldn't be more than 45 X 34 X 26cm.
The dimension of standard oversized products is larger than 120 X 60 X 60cm.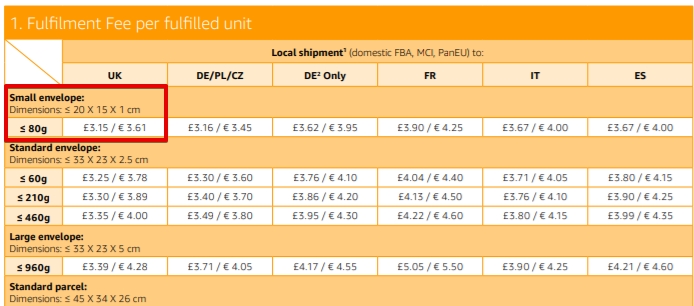 Whether your product qualifies as a standard size or an oversize will affect both its fulfillment fee and its storage fee. For example, a standard-size product that weighs 80 grams or fewer would be charged a fulfillment fee of £3.15.
There are different Amazon FBA fees for standard-sized products and oversized products alike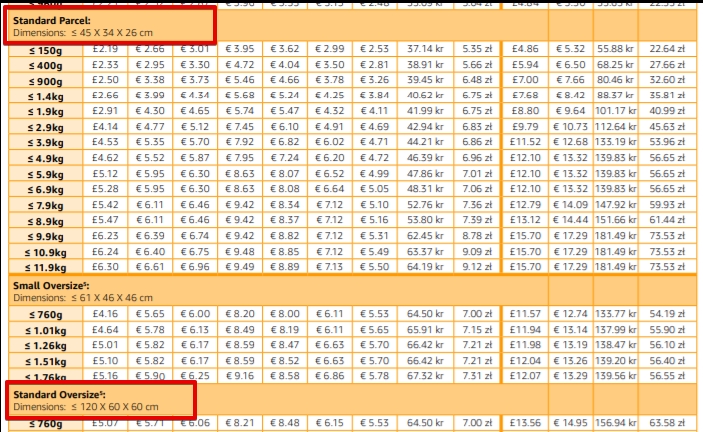 There are other fees that you need to take into consideration, such as storage fees
Storage fees differ from one product category to the other, and are higher for certain products, such as those deemed "dangerous goods." Long-term storage fees are charged in addition to monthly storage fees for products stored at an Amazon fulfillment center for more than a year.

FBA fulfillment fees for products sold outside Amazon are higher
Amazon has nearly 50 percent of the market share in eCommerce; however, 80 percent of Amazon merchants sell their products on channels outside of Amazon. You can use your FBA for products and sell them on other platforms such as eBay or a Magento/WooCommerce/Shopify-based store. This is called multi-channel fulfillment (MCF).
Entrepreneurs who use MCF ship their products to an Amazon fulfillment center, and they're charged storage fees based on product size and storage month. When a customer places an order for that product — whether directly from your business' website or from a third-party sales channel — Amazon will receive the order and pack & ship it directly to the customer.
You may have a variety of shipping options available for the products you sell, so Fulfillment By Amazon offers MCF fees for standard, expedited, and priority shipping. In addition to the shipping option selected, MCF fees are also determined by whether your product is standard size or oversize.
Selling fees
When creating an FBA account, you can between an individual or professional plan. No matter what plan you choose, there will be selling fees involved. The Individual plan costs £0.75 per unit sold, and the Professional plan costs £25 (excl. VAT) per month no matter how many units you sell. Amazon has a free tool that allows users to calculate the selling fees that are based on product category and price.
Referral fees
Sellers pay a referral fee on each item sold on Amazon, and this fee is determined by which category your product falls into. Most referral fees are between 8% and 15%.
Refund administration fees
If you refund a customer for an order for which you have already received payment, Amazon will refund you the amount of the referral fee you paid for the item(s), minus the applicable Refund Administration Fee, which is the lesser of £5.00 or 20% of the applicable referral fee.
For example, if you refund a customer the GBP 10.00 total sales price of an item in a category with a 15% referral fee, your Refund Administration Fee will be £0.30 (£10.00 x 15% referral fee = £1.50).
Is Amazon FBA right for your business?
As you can see, there are a lot of fees involved in using Fulfilled By Amazon. While not all Amazon sellers use the service, there are numerous benefits to using FBA, including fast fulfillment, fewer individual business operations, marketing advantages, and occasionally lower costs, depending on your product.
However, every business and product is different, so it's important to determine what costs to expect from FBA before signing up for the service.