Order management software – Why would you need it?
One of the greatest modern conveniences is online shopping. What's better than finding the best deal at any time of the day – and having it show up on your doorstep? All of this wouldn't be possible without proper order management software.
Businesses persisted even when there were no computers or any special software to automate the order management process. All of these tasks were done manually – this meant that it took more time for your orders to arrive at your doorstep, and often, because of human error, the packages got lost or delivered to the wrong address.  Gradually with the arising need and evolving technology, the first order management systems started to become available.
An order management system is an eCommerce solution that keeps track of orders and the fulfillment of orders. Whether you are selling to other businesses or directly to consumers, the proper order management system all the necessary tools and features to efficiently process sales from start to finish.
Facts and figures
The percentage of retailers who wants to see and manage their inventory-related tasks using mobile devices has drastically increased
Forbes states that almost 70% of all software, services and technology spending will be cloud-based by 2020
45% of small businesses still process their orders manually
Why would you need Order management software?
Here are a few reasons why having and order management tool is essential for your business:
It helps you process orders within seconds in real-time
Real-time order management means that the product data will be available to everyone in real-time, making it easy for employees or managers to check the state of the orders – if they are pending, on hold or already despatched.
Real-time order processing drastically reduces the amount of paper needed and enhances order servicing KPIs. With order management software, such as JustShipIT, data enters into the system in real-time, therefore you can monitor what is happening within your business – instead of waiting for the day to discover a problem that could have been an easy fix if it had been identified immediately.
It offers real-time reporting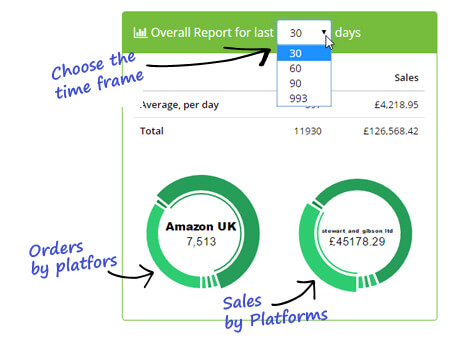 You can see how your business is performing, see which months had slumped and which months have made up for the losses. This can help you observe patterns, trends – making demand forecasting easier, so you can avoid overstocking or understocking.
Overall, this can help you reduce inventory risks, efficiently manage cash flows and profitability offering you an insight to identify where to focus next to increase your sales.
It makes selling on multiple marketplaces easy
Remember, you only have one brain to focus on multiple things – and it is not advisable at all to focus on multiple things when it comes to the retail business. This can lower the efficiency of whatever you are working on, it's hard and tiring to always shift your focus from one task to the other and back. Therefore it becomes a very cumbersome process- to track the status of each and every order when it comes to multi-channel sales. If you are managing them manually, using an excel spreadsheet, the chances of manual errors, such as incorrect input of a delivery address is pretty high.
However, an order management system can easily pull data from all your sales platforms and display your orders on a single dashboard. Order management software, such as JustShipIT, can help you save time and effort when it comes to processing orders – you can dispatch orders and send invoices with a couple of clicks, saving you precious time and allowing you to focus on other key aspects of your business.
JustshipIT is a centralized order management system that collects data from all of your linked sales platforms. Using it's easy to use interface, you can quickly process hundreds of orders and get on with managing your business in no time! Our software gives companies a single view of the complex e-commerce fulfillment ecosystem and protects against order failures. This means that you will have fewer orders that get delivered to the wrong address, less disappointed customers or lost revenue.