One of the most important aspects of holiday shipping preparation is actually knowing which carrier to use, and more importantly when. It's vital to take care of your last-minute shippers, and knowing which services are available until which dates is crucial for cart conversions. I know it can be annoying when your receive orders literally one day before Christmas, but satisfying your last-minute customers is just as important as satisfying any other customer.
If I place an order on your website on the 22nd of December and I have the parcel at my house on the 23rd, well, you can rest assured that I'll be coming to buy more stuff from your website and that I'll be recommending it to all my friends. So yes, it is very important to fulfill every order, even the last-minute ones.
As such, we've complied a list with all carriers and their final shipping dates. Oh, and keep in mind – When a customer doesn't receive their gift in time, you'll definitely face more headaches than losing a sale.
Royal Mail last posting dates
Royal Mail recommends on their own website that you should allow plenty of time for posting.
"Please post items and gifts for Christmas early, particularly for International deliveries. Ongoing Covid restrictions, reduced air and freight capacity, high volumes and winter weather conditions are all impacting transportation and local delivery across the globe"
And here you can find the table with their last posting dates for holidays 2020: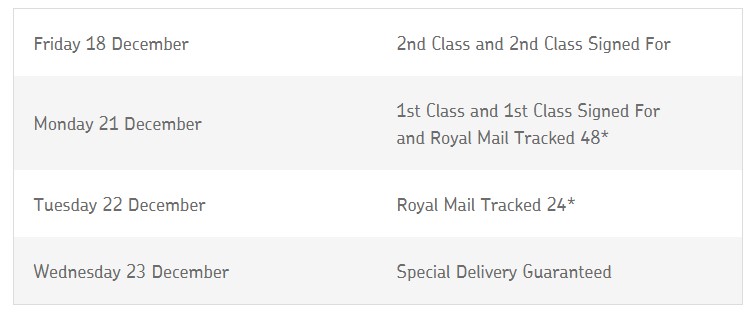 As you can see, Royal Mail's last posting dates for Christmas are pretty generous, but if you're going to cut it that close, you have to make sure that there's no room for any errors.
Parcelforce last posting dates
For all you last-minute shoppers, Parcelforce will make sure that any panic orders will be sitting under the Christmas tree before the big day, as their last day for Christmas post is two days before the holiday. That's incredibly generous as well, but again, we don't recommend cutting it that close.
Nonetheless, here's a table with Parcelforce's last posting dates:
Hermes last posting dates
While Hermes' last posting dates aren't as generous, they are still a great alternative to Royal Mail and Parcelforce. But if you really, really have to use Hermes and it's the 23rd of December already, their "Next Day Parcelshop Dropoff" service has you covered.
As such, Hermes' last posting dates are as follows:
Saturday 19th December. For customers who want a Hermes courier to collect a parcel from them.
Monday 21st December (noon). For customers sending presents from Hermes' nationwide network of ParcelShops, using the standard service.
Tuesday 22nd December (noon). For customers sending presents from one of Hermes' nationwide network of ParcelShops, using the next day service.
DHL last posting days
For DPD domestic parcels, the last collection date for delivery before Christmas Day would be Wednesday 23rd December 2020. Parcels collected on Wednesday 23rd December would be due for delivery on Thursday 24th December.
Will last posting dates be affected by COVID-19?
Due to these uncertain times, your parcels may be subject to delays. That's why we advise anyone who is sending UK to UK parcels to do so at least 2 weeks in advance this year.
If you are sending internationally, we advise you to send at least one month in advance for Christmas.
Closing thoughts
It's been an incredibly difficult year for everyone, so having no presents under the Christmas tree wouldn't help matters. This is why we strongly recommend ordering at least 1-2 weeks in advance, before Christmas. Sure, you'll probably make it even if you place an order in the last days before Christmas, but are you willing to take the risk?
As long as you keep these final posting dates in mind, we're sure that everyone will have all of their Christmas presents under the tree.
Merry Christmas everyone!