One of the most important prerequisites for success in multi-channel sales is inventory management, which allows you to always have the right products in the right quantity for sale, at the right time.
When done effectively, businesses in general, not just online based businesses, reduce the costs of carrying excess inventory while maximizing sales. Also, sellers can have just the right products in the right quantity on hand and
avoid their products being out of stock or even funds being tied up in excess stock. With inventory management done as it should be, sellers ensure that their products are sold in time to avoid spoilage or obsolescence, or spending too much money on stock that's taking up space in a warehouse or stockroom.
Seeing that more and more sellers choose to be active on multiple platforms, the need for a tool that helps them manage their whole activity has become more than urgent.
JustShipIT is the order shipping management app that is able to integrate with most online market places available, allowing sellers to directly download orders from each platform into JustShipIT.
Shipping-wise, the tool offers courier integration and mapping, which is translated in conforming to the shipping requirements per each selling platform or channel. Our app is integrated with Royal Mail, UK Mail, Yodel, DPD, Collect+, Click & Drop and many more.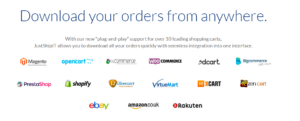 Of course, this means that for all orders that have been shipped, sellers can generate courier labels and add tracking numbers in bulk as well as marking certain orders for future despatching. In order to save time JustShipIT has built-in despatching to update the platform once an item has been shipped. This way, your inventory will be up to date at all times!
Basically, the tool helps sellers perform better in their business, knowing all there is to know in regards to their inventory, labeling, tracking and order shipping. JustShipIT can print a picking and packing list to help the despatching team with signing off what has been sent each day.
Be careful, though! Even if your inventory management is done in detail using our service, you still need to actually count your products and categorize your inventory yourself, in order to be sure that the products in your stock as just as the ones entered in the app. They basically need to match. We would advise on an annual physical inventory, counting every product. Having the same numbers in your app stock as the physical one is a guarantee of a healthy business model.